Main Activities
Our Mission : Main purposes and activities
The IIMA aims to conduct research and studies on issues relating to the international economic, financial and currency matters, and through its activities as a specialized institute, to contribute to the stability and development of the economy, society, and international financial markets as well as to deepen the mutual understanding between Japan and the rest of the world.
The institute is a public interest incorporated foundation which engages only in activities to serve public interests. "Research and Analysis" constitutes a central part of its activities, accompanied by the related activities of "Information and International Exchange" and "Publicity and Dissemination" mainly capitalizing on the achievements of "Research and Analysis".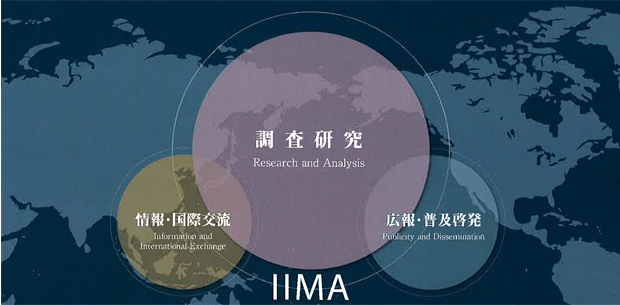 With strong expertise and achievements accumulated through their past activities, professional economists at the institute conduct research and analyses on issues in the international economic, financial and currency spheres.
Information and International Exchange
Utilizing the networks constructed through research activities, we actively engage in exchanges of information and research outcomes with outside intellectuals and other research institutions, etc. We also provide the public with opportunities for international exchanges of opinions and views by hosting international financial symposiums and seminars, inviting outstanding experts from home and abroad.
We post our achievements in research and analysis on our website in order to widely disseminate them so as to help promote stable development of the overall economy and financial markets. We are also actively involved in publishing books and contributing articles to journals, etc.